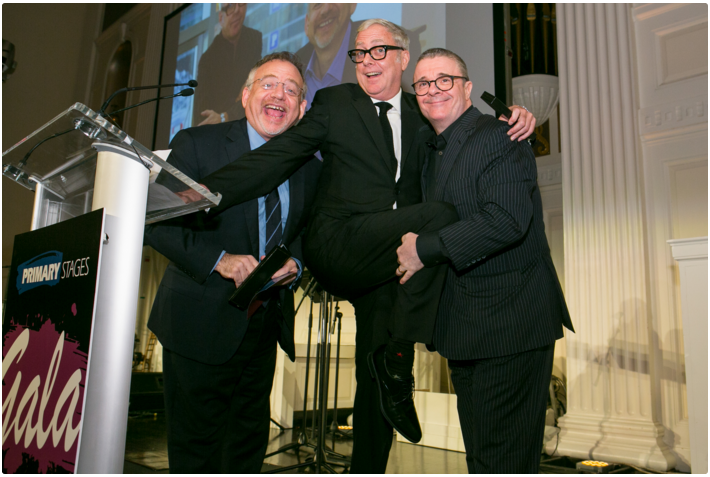 Photo by Stavros Panopulos, Hechler Photographers.
583 PARK AVENUE has had the privilege of working with the finest organizations to host some of New York City's most sought after events. This month, we've had the pleasure of working with some inspiring philanthropic organizations, helping them to set fundraising records. Below is a list of select highlights from the last few months of 2015:
FIRST, is an international K-12 not-for-profit founded to inspire young people to take interest and participate in science and technology. Their inaugural FIRST, Inspire Celebration, held at 583 PARK AVENUE, rallied support for STEM education.
Among the honorees were philanthropist Michael Bloomberg, musician Will.i.am, and FIRST Alumna and NYU Tandon School of Engineering Student, Diana Lee Guzman. Bloomberg received the John C. Whitehead Leadership Award for his hands-on approach to inspiring youth with the power of STEM. Will.i.am earned the Community Inspiration Award for inspiring students to pursue STEM and for helping build stronger communities. Diana Lee Guzman was honored with the Evelyn Kamen Rising Star Award for her academic achievements.
"By providing young people with opportunities to explore new worlds, FIRST is making a big difference in their lives – and in our future," said Michael R. Bloomberg, who received the John C. Whitehead Leadership Award. "Bloomberg is proud to support organizations like FIRST that are encouraging the next generation of talented scientists and engineers and preparing them to take on some of the toughest challenges we will face, from improving public health to fighting climate change."
As part of the event, FIRST launched an online auction via Charity Buzz. The inaugural event raised $1.7 million to further expand diversity efforts and student access to STEM opportunities.
The World of Children Awards seeks to improve the lives of vulnerable children by funding and elevating the most effective changemakers for children worldwide. The Awards Ceremony took place at 583 PARK AVENUE on November 5, 2015, where 450 guests gathered to celebrate the World Of Children Award Honorees.
The program kicked off with a warm welcome from Caryl M. Stern, President and CEO of U.S. Fund for UNICEF. Alina Cho hosted the program, with appearances by Stephanie March, Anthony E. and Miraldina Meyer, Sheryl WuDunn, Francis "Shorty" Fraenkel, and World of Children Award Co-Founders Harry Leibowitz and Kay Isaacson-Leibowitz.
This year's Honorees included changemakers working on a wide range of issues, including: homelessness, teen pregnancy, and life-threatening medical issues. This year's honorees are working in Colombia, Mexico, China, Sierra Leone, Belarus and Ukraine and the United States. Check out the full list of Honorees and their ambitious work.
The evening raised $850,000 for World of Children Awards programs to fund and elevate the work of effective changemakers for children worldwide.
Primary Stages held their annual gala on November 16th, 2015 at 583 PARK AVENUE to honor the composer-lyricist team Marc Shaiman and Scott Wittman. The Tony and Grammy-winning songwriters behind Hairspray, Catch Me If You Can, and Smash were chosen for their long-standing careers and breadth of work.
The evening was hosted by Jackie Hoffman, and featured performances of the duo's songs by Ana Gasteyer (Wicked, Saturday Night Live), Bridget Everett (Rock Bottom), Annie Golden (Violet, Orange Is The New Black), Jackie Hoffman (Once Upon a Mattress), Nathan Lane (The Producers), Caissie Levy (First Daughter Suite) Aaron Tveit (Grease! LIVE) and more. The evening raised nearly $100,000 to support free matinee performances for students. After the show, guests were treated to red wine and cheese in the lobby.
Are you planning an event in New York City? Contact one of 583 PARK AVENUE's Event Coordinators today to learn more about our venue.