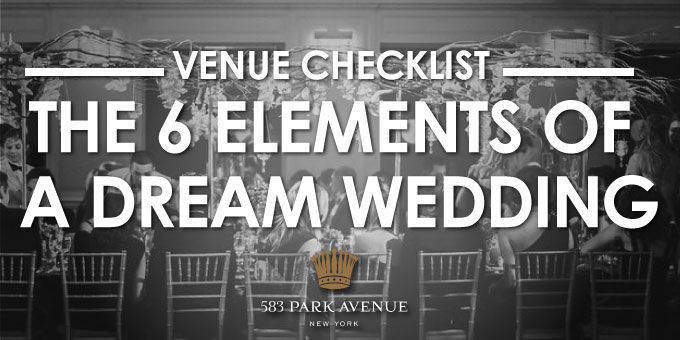 The date has been set. You're getting married! You have been dreaming of this day, and you know how you want it to look. Now, what does the venue need to provide so the wedding proceeds flawlessly?
Here are the six elements that an event venue must provide to achieve your dream wedding:
Charming, Stunning Aesthetics
Decor is key. From piping to draping; to custom furnishings, place settings and table decorations; to crystal, lighting and chandeliers, setting the ideal backdrop for this special event will largely depend on you and your mate's personal style.
Are you romantics with cascading white drapes and soft twinkles of lights shining through? Are you rustic where earthy accents, copper tones and wire-rimmed lighting better suit? Or do you consider yourself contemporary and prefer bold pops of color, clean lines and modern furnishings?
Whatever the style, the staff at 583 PARK AVENUE can design a breathtaking scene that is distinctively yours.
One way to makeover a room is with specialty lighting. Research shows the amount of light in a room affects the regulation of emotions – bright light heightens emotional responses, and soft light induces relaxation. Whether you choose uplighting, texture lighting, pin spot lighting or monogram lighting, the expert coordinators at 583 PARK AVENUE will help captivate guests with brilliant designs.
The Best Service Ever
Candor can carry a relationship. To avoid disgruntled guests, bridesmaids and a bridezilla, make sure the staff has been selected and trained by a professional maitre d'hotel. At 583 PARK AVENUE, our maitre d'hotel assembles a team of highly-trained and courteous captains, waiters (2 per table or approximately 1 for every 5 guests—one of the highest server-to-guest ratios found in the city), bartenders, coat check assistants, lounge attendants and doormen.
We ensure the newlywed couple and their closest friends and family's needs are exceeded throughout the event. Assisting guests all the way to the end of their experience almost always takes more time and commitment, but this also where the cream rises to the top. With over 40 years of event management experience, we offer unparalleled service.
Seamless Technology
Many of couples are now live-streaming their nuptials. It is partly for posterity and partly to give distant friends and family a glimpse of the proceedings if they could not attend.
Another wedding trend is streaming photos of you and your partner from childhood to the time you met. The people closest to you will probably help select these photos. It's an endearing novelty that should be an option for you to choose.
Don't let technology woes hinder these opportunities. At 583 PARK AVENUE, you can live stream the wedding and reception and play a slideshow of photos accompanied by music with zero interruptions. With our newly installed, state-of-the-art fiber optic cable Internet service, data is transmitted 100 times faster—a perk guests will enjoy as well when they are tweeting and Instagramming from the event.
Drinks & Cocktails
After all this planning, libations will be crucial. From soda to champagne, the selection at 583 PARK AVENUE is sure to please.
Depending on the aesthetic style you choose, a beverage can be selected to match. A charming country inspired backdrop? Pair with a Sierra Nevada Pale Ale and an oaky chardonnay. A romantic setting? Try bubbles, such as Pol Roger Brut, and Stella Artois. For the modern pair, feature something more intricate – a bold red and Guinness.
Delicious Food
When it's time for the meal, guests want the salad and salad plates to be chilled, the entrees to be hot and freshly prepared, and dessert to be served an appropriate time after. It all has to look good, and service must flow well. As hosts, you will be just as concerned for your own meals as you will be for each guest's. The meal is important to your families – it's a symbolic gesture of two families joined as one at the table.
Space to Cut Loose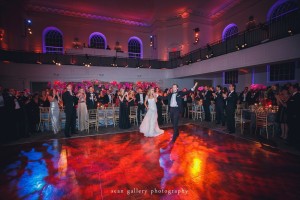 After everyone has enjoyed their meals, it will be time to cut loose. You've been looking forward to this part since preparations began. After months of planning and deliberating with friends and family, you and your better half are ready to dance the night away. Space here is key – there needs to be plenty room for dancing and mingling.
The ballroom at 583 PARK AVENUE can be transformed to accommodate attendee lists from 100 – 700 guests. For more intimate weddings, we also feature our balcony space.
Find a venue to deliver these six elements, and your wedding will create a long-lasting gem of a memory celebrating the love you found.
Interesting in having your wedding at 583 Park Avenue? Contact us to speak with one of our Event Coordinators.